---
Card #110 (September 23, 2020) – Game 3 – Stamkos' Return Sparks Lightning to 5-2 Victory Over Stars
Playing in his first game since February, Steven Stamkos made the most of his 2:47 ice time by scoring on his only shot of the game on a pass from Victor Hedman to give the Tampa Bay Lightning a 2-0 lead in the first period. Nikita Kucherov, Victor Hedman, Brayden Point and Ondrej Palat also recorded goals for Tampa Bay.
Card #111 (September 25, 2020) – Game 4 – Shattenkirk Scores in OT to Lift Tampa Bay to 5-4 Win
The Lightning power play came through when they needed it most in Game 4 as Tampa Bay went 3-for-4 with the man advantage in a 5-4 overtime victory against Dallas. The Lightning's third power-play goal was the game-winner off the stick of Kevin Shattenkirk at 6:34 of overtime.
Card #112 (September 26, 2020) – Pavelski Breaks Record for Most Career Playoff Goals by United States-born Player
Joe Pavelski's goal at 13:15 of the third period in Game 5 not only sent the contest between Dallas and Tampa Bay into overtime, it also set a record for the most career goals scored by a United States-born player in the NHL® playoffs. The goal, which tied the game 2-2, was the 61st career playoff goal for Pavelski, who was playing in his 160th career postseason game.
Card #113 (September 26, 2020) – Game 5 – Perry Scores in Double OT as Dallas Tops Tampa Bay to Extend the Stanley Cup® Final to Game 6
In Game 5 of the Stanley Cup® Final, Corey Perry started and ended the scoring with a goal in the first period and another goal in double overtime. Perry's overtime goal gave Dallas a 3-2 victory over Tampa Bay and forced a Game 6.
Card #114 (September 28, 2020) – Game 6 – Vasilevskiy, Lightning Shut Out Dallas to Claim First Stanley Cup® Since 2004
Andrei Vasilevskiy stopped all 22 shots he faced and recorded his first career postseason shutout to defeat the Dallas Stars 2-0 and lead the Tampa Bay Lightning to its first Stanley Cup® title since 2004. Brayden Point scored his 14th goal of the playoffs in the first period to give Tampa Bay the lead and set a Lightning team record for the most goals in a single postseason. Victor Hedman had an assist on Point's goal and won the Conn Smythe Trophy.
It's not too late to grab retired Game Dated Moments that you may have missed! Head on over to the e-Pack Trading Marketplace and spark up a trade for these retired 2019-20 Game Dated Moments and All-Time Game Dated Moments cards to complete your collection!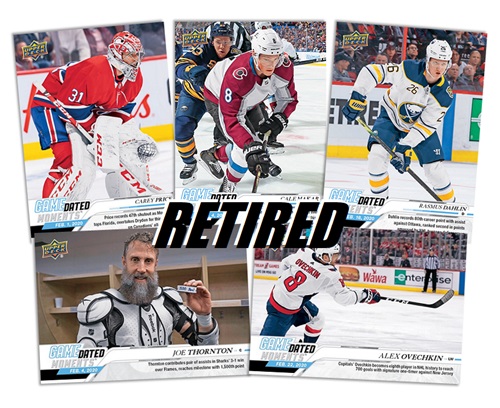 Head to the STORE to get your Game Dated Moments cards now!
Product depicted for demonstration purposes only and is subject to change without further notice.
*Packs will expire from the store the following Friday at 8:59 am (PST).
**To purchase Game Dated Moments packs in the e-Pack store, you must purchase at least one other (non-Game Dated Moments) Hockey trading card product in the same transaction on e-Pack. Adding a hockey trading card product to your cart will unlock the Game Dated Moments product and allow you to add up to 99 of every available unique Game Dated Moments packs to your cart. There is no limit on the number of Game Dated Moments packs you can purchase, but only 99 of each pack may be purchased in a single transaction. Game Dated Moments cards may be shipped or transferred to a linked COMC account. However, this option will not be enabled until 3-4 weeks after the corresponding packs are expired from the e-Pack store. If you have a Game Dated Moments card in your collection on e-Pack when the option to be shipped has been enabled, you will receive an e-mail from e-Pack alerting you.
© 2020 The Upper Deck Company © NHL © NHLPA