---
Card #95 (July 23, 2020) – Seattle Unveils New Team Name
After months of speculation, Seattle, home to the NHL's 32nd franchise, revealed its team name, colors, logos, and jerseys. The name, Kraken, is derived from a sea creature that bears resemblance to a gigantic octopus or squid. The team's color pallet features "Red Alert", "Deep Blue Sea", "Ice Blue", "Shadow Blue" and "Boundless Blue". Seattle's inaugural season is slated for 2021-22.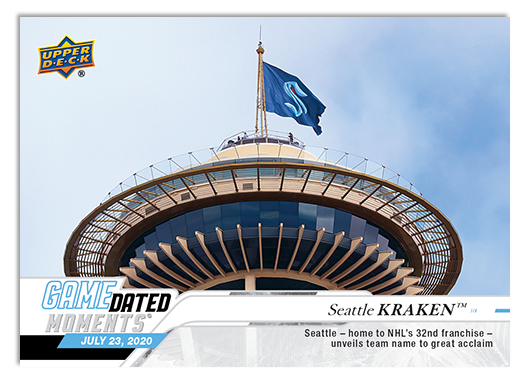 It's not too late to grab retired Game Dated Moments that you may have missed! Head on over to the e-Pack Trading Marketplace and spark up a trade for any retired 2019-20 Game Dated Moments and All-Time Game Dated Moments cards you may have missed to complete your collection!
Head to the STORE to get your Game Dated Moments card now!
Product depicted for demonstration purposes only and is subject to change without further notice.
*Packs will expire from the store the following Friday at 8:59 am (PST).
**To purchase Game Dated Moments packs in the e-Pack store, you must purchase at least one other (non-Game Dated Moments) Hockey trading card product in the same transaction on e-Pack. Adding a hockey trading card product to your cart will unlock the Game Dated Moments product and allow you to add up to 99 of every available unique Game Dated Moments packs to your cart. There is no limit on the number of Game Dated Moments packs you can purchase, but only 99 of each pack may be purchased in a single transaction. Game Dated Moments cards may be shipped or transferred to a linked COMC account. However, this option will not be enabled until 3-4 weeks after the corresponding packs are expired from the e-Pack store. If you have a Game Dated Moments card in your collection on e-Pack when the option to be shipped has been enabled, you will receive an e-mail from e-Pack alerting you.
© 2020 The Upper Deck Company © NHL © NHLPA