---
Card #83 (June 6, 2007) – Anaheim Ducks Become the 1st California Team to Win Stanley Cup
Travis Moen scored a pair of goals to lead the Anaheim Ducks to a 6-2 victory over Ottawa in Game 5 of the Stanley Cup Final, making the Ducks the first California-based team to win the coveted Stanley Cup. The title was a long time coming for star winger Teemu Selanne, who eclipsed 1,000 regular-season games-played earlier in the season. Defenseman Scott Niedermayer was honored with the Conn Smythe Trophy as the postseason MVP.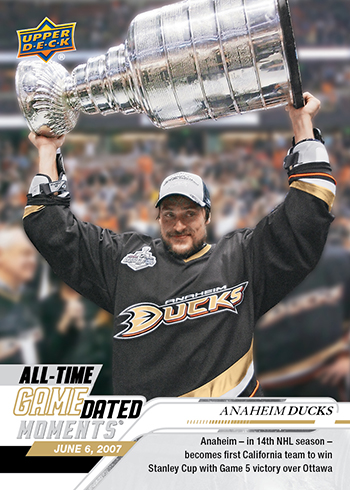 Card #84 (June 9, 2001) – Bourque, Five-Time Norris Trophy Winner, Wins Stanley Cup
In his second year in Colorado, after more than two decades of patrolling the blue line in Boston, Borque was finally able to lift the Stanley Cup when he helped the Colorado Avalanche defeat the New Jersey Devils 3-1 in Game 7 of the 2001 Stanley Cup Final.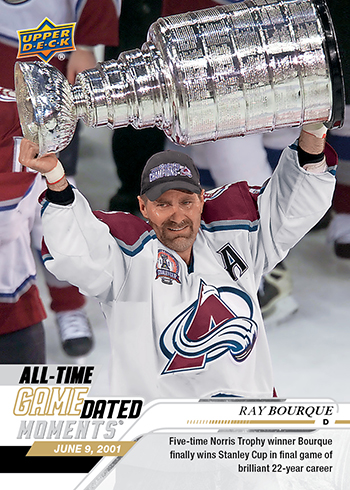 As a reminder, these All-Time Game Dated Moments cards are required in order to redeem for the monthly achievement cards and the Autograph Achievement at the end of the season.
Head to the STORE to get your packs now!
Product depicted for demonstration purposes only and is subject to change without further notice.
*Packs will expire from the store the following Friday at 8:59 am (PST).
**To purchase Game Dated Moments packs in the e-Pack store, you must purchase at least one other (non-Game Dated Moments) Hockey trading card product in the same transaction on e-Pack. Adding a hockey trading card product to your cart will unlock the Game Dated Moments product and allow you to add up to 99 of every available unique Game Dated Moments packs to your cart. There is no limit on the number of Game Dated Moments packs you can purchase, but only 99 of each pack may be purchased in a single transaction. Game Dated Moments cards may be shipped or transferred to a linked COMC account. However, this option will not be enabled until 3-4 weeks after the corresponding packs are expired from the e-Pack store. If you have a Game Dated Moments card in your collection on e-Pack when the option to be shipped has been enabled, you will receive an e-mail from e-Pack alerting you.
© 2020 The Upper Deck Company © NHL © NHLPA