---
Card #43 (January 25, 2020) – Host St. Louis Blues Have Four Reigning Stanley Cup® Champions Participate in 2020 NHL® All-Star Game
The host city was thrilled to have four of their own St. Louis Blues participating in the 2020 NHL® All-Star Game, including captain Alex Pietrangelo, Ryan O'Reilly, Jordan Binnington, and David Perron. At the NHL All-Star Skills Competition™ the night before, goalie Jordan Binnington recorded 10 consecutive stops to win the save streak competition.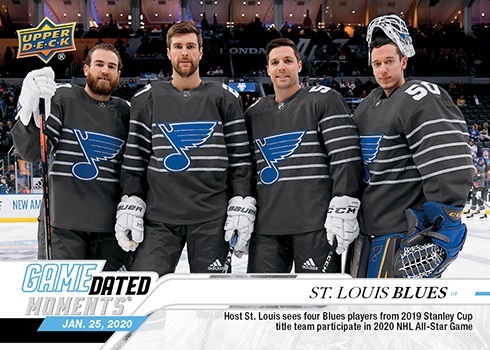 Card #44 (January 25, 2020) – Hughes Becomes the Second Rookie Defenseman to Score a Goal in an NHL® All-Star Game
Vancouver Canucks rookie Quinn Hughes was just the fourth first-year defenseman selected to play in an NHL® All-Star game in the last 33 years and made history when he became the second rookie blueliner to score a goal in one of the league's marquee events. Hughes found the back of the net 9:06 into the first period during the Pacific's matchup against the Central Division.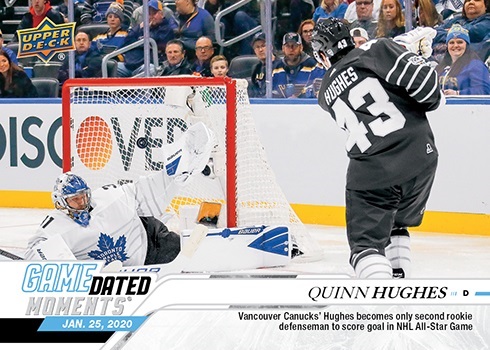 Card #45 (January 25, 2020) – Fans Vote Pastrnak MVP of 2020 NHL® All-Star Game
David Pastrnak, the Boston Bruins right winger, took home MVP honors at the 2020 NHL® All-Star Game after scoring four goals and two assists for a total of six points on the night.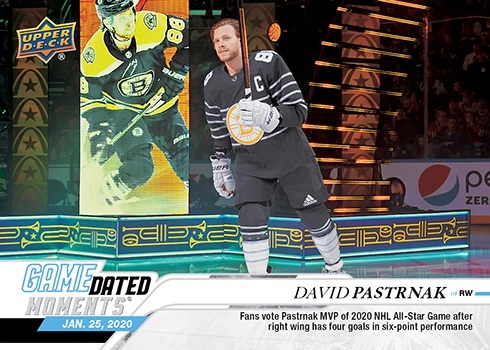 It's not too late to grab retired Game Dated Moments that you may have missed! Head on over to the e-Pack Trading Marketplace and spark up a trade for these retired 2019-20 Game Dated Moments cards to complete your collection!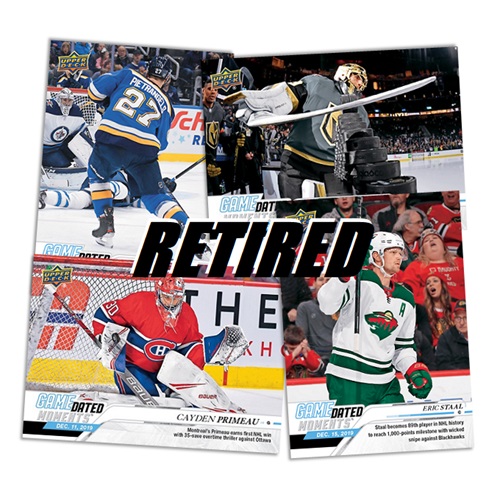 Head to the STORE to get your Game Dated Moments cards now!
Product depicted for demonstration purposes only and is subject to change without further notice.
*Packs will expire from the store the following Friday at 8:59 am (PST).
**To purchase Game Dated Moments packs in the e-Pack store, you must purchase at least one other (non-Game Dated Moments) Hockey trading card product in the same transaction on e-Pack. Adding a hockey trading card product to your cart will unlock the Game Dated Moments product and allow you to add up to 99 of every available unique Game Dated Moments packs to your cart. There is no limit on the number of Game Dated Moments packs you can purchase, but only 99 of each pack may be purchased in a single transaction. Game Dated Moments cards may be shipped or transferred to a linked COMC account. However, this option will not be enabled until 3-4 weeks after the corresponding packs are expired from the e-Pack store. If you have a Game Dated Moments card in your collection on e-Pack when the option to be shipped has been enabled, you will receive an e-mail from e-Pack alerting you.
© 2020 The Upper Deck Company © NHL © NHLPA