To unlock and purchase these packs, simply add any available hockey trading card product on e-Pack to your cart.* This week's pack of 2019-20 Game Dated Moments cards will be available for purchase** in the Upper Deck e-Pack® Store until 1/31/2020 at 8:59 am (PST).  
---
Card #40 (January 18, 2020) – Ovechkin Moves Into Ninth Place on All-Time Goals List with His 692nd Career Goal
Alex Ovechkin recorded his second straight hat trick, and 692nd career goal, propelling him into ninth place on the NHL's all-time goals list. With his first goal of the night, Ovechkin tied Mario Lemieux with 690 goals for 10th place then proceeded to score two more goals, tying him with Steve Yzerman for ninth place at 692 goals.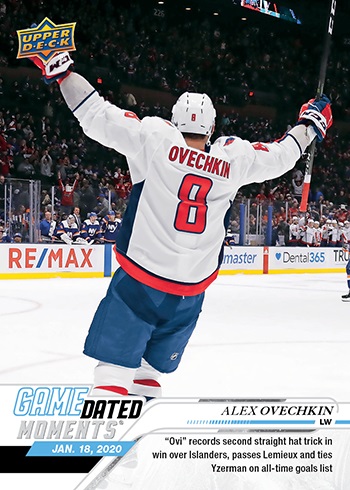 Card #41 (January 18, 2020) – Merzlikins Records Three Shutouts in Four Games
Elvis Merzlikins became the seventh rookie goalie in the modern era to record three shutouts in four games after he recorded 41-saves and held the New Jersey Devils scoreless in a 5-0 victory for Columbus. Merzlikins has won 8 of his 10 starts and has posted a .955 save percentage during that incredible stretch.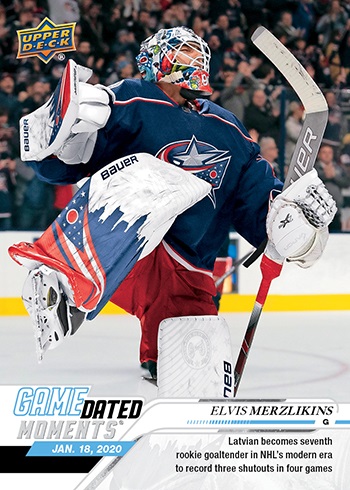 Card #42 (January 19, 2020) – Kane Reaches 1,000 Point Milestone
At 31 years and 61 days old, Patrick Kane became the youngest American-born player to record 1,000 career NHL points with his assist on Brandon Saad's third-period goal in Chicago's 5-2 win over the Winnipeg Jets. Kane is the 90th player in NHL history and 4th player in Blackhawks history to reach the 1,000 point milestone.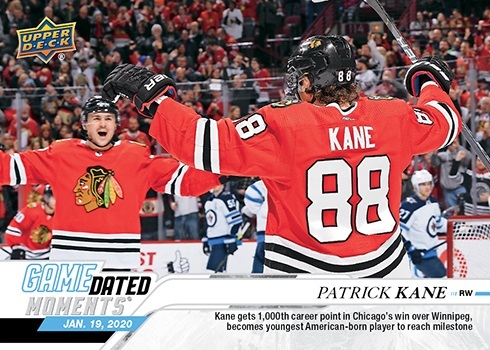 It's not too late to grab retired Game Dated Moments that you may have missed! Head on over to the e-Pack Trading Marketplace and spark up a trade for these retired 2019-20 Game Dated Moments cards to complete your collection!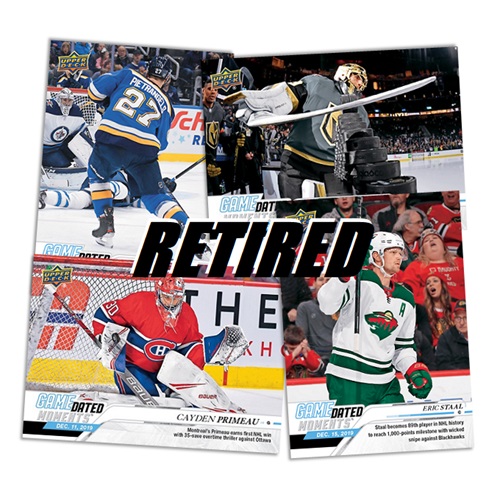 Head to the STORE to get your Game Dated Moments cards now!
Product depicted for demonstration purposes only and is subject to change without further notice.
*Packs will expire from the store the following Friday at 8:59 am (PST).
**To purchase Game Dated Moments packs in the e-Pack store, you must purchase at least one other (non-Game Dated Moments) Hockey trading card product in the same transaction on e-Pack. Adding a hockey trading card product to your cart will unlock the Game Dated Moments product and allow you to add up to 99 of every available unique Game Dated Moments packs to your cart. There is no limit on the number of Game Dated Moments packs you can purchase, but only 99 of each pack may be purchased in a single transaction. Game Dated Moments cards may be shipped or transferred to a linked COMC account. However, this option will not be enabled until 3-4 weeks after the corresponding packs are expired from the e-Pack store. If you have a Game Dated Moments card in your collection on e-Pack when the option to be shipped has been enabled, you will receive an e-mail from e-Pack alerting you.
© 2020 The Upper Deck Company © NHL © NHLPA